Services
Adults
Children
Special Needs
Free Consultations
Cleanings
Gum Treatments
Crowns
Bridges
Root Canal
Fillings
Extractions
Oral Surgery
Partials
Dentures
Invisible Braces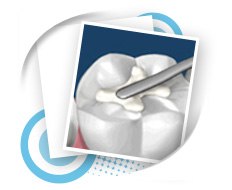 "We Care For You As Well As Your Teeth"
At Mountain Dental Associates, we provide the most advanced and comprehensive care in a most comfortable and caring environment. Our office believes that dental care is much more than filling cavities in teeth; we strive to develop a strong and compassionate relationship between the patient, doctor, and staff. Our concern is that you are comfortable and relaxed while your personal dental needs are addressed individually.
We believe that your teeth should last you a lifetime, and that there are several ways to address any particular problem. For each situation, we review all of the treatment options and discuss the pros and cons of each, so you can make the proper decision for yourself. It is, after all, your mouth!
We encourage you ask questions, even during the middle of treatment. We provide care in all areas of general dentistry, including restorative and cosmetic dentistry (fillings, crowns, bridges, and dentures) and the more specialized procedures including root canals, periodontal surgeries, oral surgeries, surgical extractions, and orthodontics.


We are a full service dental office.
CALL US TODAY: 706-515-3500
Hours of Operation: 8:30AM to 5:00PM